Middle finger, "L" sign and…Instadommes
Middle finger, "L" sign and…Instadommes
If you read this blog since a while, you know how I HATE instadommes, especially for the waste of time they are for me and other real slaves that get flooded with identical messages on Twitter.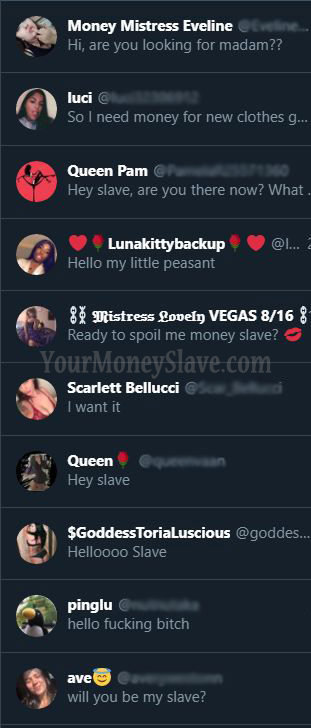 Why I hate instadommes
One of the things I hate the most about them is how they are acting ALL in the SAME way, like if there would be a rule "do this and slaves will magically pay you".
A typical instadomme will:
Approach you without you even knowing who She is
Treat you like shit
Demand for money after not even 2 messages
Block you if you refuse
Sometimes it may happen that they don't contact you, but you stumble upon them while browsing Twitter…it's kinda easy to spot them.
About the middle finger and the "L" sign
Do you know what's the easiest way to spot an Instadomme? Just view her content posts one by one: most probably in every video she shoots, she will end up with an "L" sign or a middle finger…or even both!!! And I mean EACH AND EVERYONE.
Now, don't get me wrong. I know Financial Domination, sometimes, it's also about humiliation and some slaves want to be treated that way…but you are acting ridiculously by doing this in every single video!
First of all: not every slave wants to be treated the same.
Second: a REAL Financial Domination Goddess is, first of all, a Lady with capital "L". She's well educated, elegant, smart, intelligent. How many of those words do you think go well with her doing a middle finger or the "L" sign? Exactly: NONE.
I mean… would you ever imagine Goddess Ishtar showing her middle finger or making the "L" sign in every single video she makes?
How many times have you seen her doing it?
And now answer this question: is she a successful domme, that submits slaves of every kind? Let me answer this one for you: Yes, She's one of the best out there because She KNOWS what she's doing and She's not here just for the money.
A message for instadommes
Financial Domination can have many forms, and surely no slave is equal to another (to a certain extent). By doing all the same damn thing, all the dam time, you are just showing that you know NOTHING about this world and you are here just to grab some money.
My proposal to you? Go back where you came from, you are just an annoying waste of time for all of us, real slaves and real dommes.
Thank you.