Spoiling Goddess Ambra
Spoiling Goddess Ambra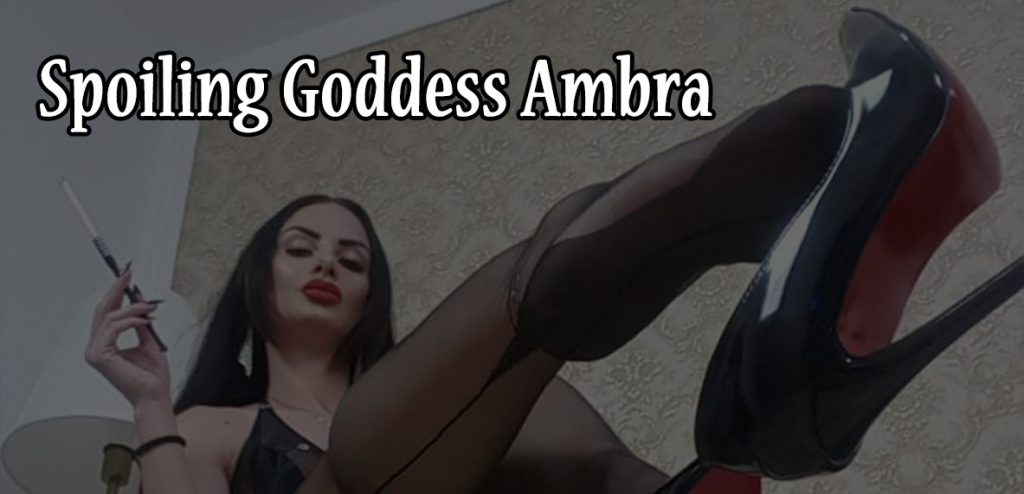 More than one month passed since the end of July when my 40 days of total freedom (home alone) finally ended. I've spent a lot during those days, that's no secret. What I still didn't tell you, it's whom I've spent them with…although I'm sure you can kinda guess it.
One of them (because you know… I'm not loyal) has been the magnificent Goddess Ambra.
She took the chance of those days to show me, once again, how incredible her beauty and power are, draining all my energies (and money) more than once during those days.
Of course, it's not like She intentionally waited for those days and then contacted me to drain me…but it just happened. Being free as I was, I was craving to serve Her once again… and that's what happened. I was lucky enough to be able to spoil Her properly on a few occasions.
I still have vivid memories of all the sessions we had, since each one of them has been special, intense and satisfying. Not even ONCE I found myself regretting what I did with Her, Not even ONCE I woke up the morning after thinking "damn, I was an idiot last night, spending that much online".
She DESERVES it all.
And I'm not just saying it…I mean it. She uses all her incredible skills each time, She never leaves things behind, She never looks somewhere else or is not focused on the session. When you are with Her, there is no escape. There is no way you can hope She will stop torturing you while smoking a cigarette or taking a break in any way. She will always be all over you, always using Her power, constantly teasing, denying, torturing, demanding… no stop.
One session with Her is probably one of the most intense experiences you can have on cam. She gives all herself in those sessions, you feel like she is there focused on destroying you totally: nothing else is on her mind, nothing else can distract her.
She enjoys what she does, She even gets excited at times during a session…and no, she's not faking it. I have enough experience to tell when a Goddess is faking it or feeling the excitement of the moment.
And when it comes to Her beauty…I don't even know where to start from. Perfection is the word when it's about Her: from Her beautiful eyes to Her perfectly shaped feet. From Her fantastic ass to Her wonderful boobs. Every inch of Her body expresses beauty, sensuality, power.
Last but not least, of course, another of the things that drives me crazy about Her it's her genuine, deep, unstoppable passion for nylons. She has only the best quality ones, I never saw a run on her stockings or pantyhose, never saw her wearing cheap nylons. Always the best, and most of the time Wolford, as I think she has a specific passion for those. To my eyes, this is something to go CRAZY about.
Goddess Ambra is exceptional and serving her was (and always is) a true privilege. If you want to do the same, click here and visit her cam page… you won't regret it.