If you want to be a Goddess, DON'T look cheap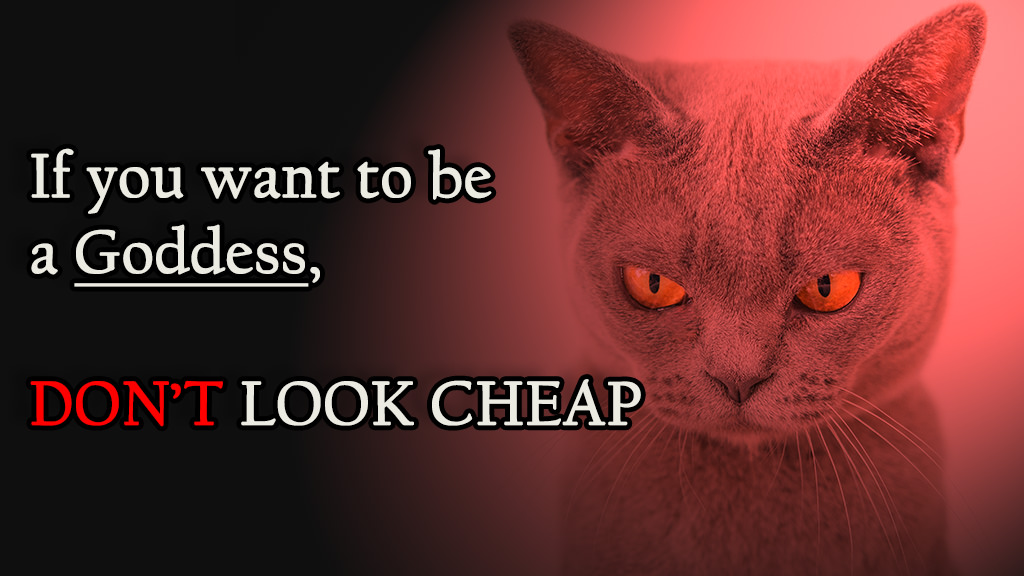 First of all, let me say that I'm not quite sure if I already wrote about this matter in the past, but I'm simply too angry to go and check. I just NEED to cool it off by writing it down.
If you want to be considered a Goddess online, don't look f***ing cheap. Don't ACT cheap. Don't DRESS cheap. Don't TALK cheap. Don't THINK cheap.
Let's stop looking at this from the slave/Goddess perspective point of view, and for a moment let's talk about what you all are really doing here.
What you are doing online is a form of entertainment (one of the best ones, in my opinion), you are making me live a dream, a fantasy. You are actually SELLING me a fantasy. And this particular kind of fantasy involves well… money. More than any other kind of fantasies.
Your role is the one of a Goddess. You are the one every man desire. You are the one who looks down at men and just doesn't care about them, because you don't need them or their money. You already have all you want, but you are kind enough to allow slaves to come and worship, serve, and spoil you. That's your role ok? Focus on this.
Now, for the love of God, why on Earth you would think that details are not important? This is ALL about details! Everything around you matters, everything I see when I look at you matters. Everything you do matters. Everything you say matters. It all counts to build this fantasy.
I'm not here saying everything should be perfect, I'm not that picky of course. But damn…there are a few things that REALLY drive me MAD. An example? Well, let me describe to you what just recently happened that made me write this post.
A few weeks ago I spotted a beautiful Goddess online. Her pictures are great, she seems to be very aware of what I like to call "The power of nylons", and Her whole image seems perfect. Even what she writes on her profile is great. So, after a while, I decide to go and see Her.
The first night was nice, she was sexy and powerful, only downside was that she had a quite big run on her stockings. No big deal I think, it can happen. Most probably she didn't notice it until I was in. She could have changed them but…ok, it was just the one time.
On the second night, the run on her stockings is even bigger. Once again, I decided to give her another chance. I really like her, she seems smart, the time we spend together is great…so why not.
The third night, when I look at her, all I can see is the HUGE run on her stockings. She is STILL using the same pair, she didn't even bother to change them. She didn't even think it could have mattered.
The fourth night… no, I'm kidding. There is never going to be a fourth night.
Am I exaggerating you say? Really? Shouldn't I pretend for someone who plays the part of a Goddess to pay attention to, at least, these details?
Have a look at ANY of the Goddesses I've been serving in more than 10 years, have a look at them. Click here and visit them, have a session with them. You will NEVER notice something similar, for sure not for two sessions in a row. It can happen to anyone of course, even to them. But what they do is either change immediately or, at least, change after the one session where the issue shows up. It's called attention to details. It's called dedication to your work. It's called respect with the one who's paying you. It's called professionalism. And girl, if you don't have it well… You won't simply have me as a slave in this roleplay we do. My money is better spent elsewhere.
Sorry for the rant guys…but I just needed to write all this.