A word with MsClassy: beautiful and elegant Findomme
A word with MsClassy: beautiful and elegant Findomme
It's easy to say that when you are serving your Goddess for quite a long time, you surely end up knowing Her as a bit more than just as a Goddess. The relationship often gets a bit more intimate (always respecting roles of course), and maybe you end up knowing more about your Goddess as a Woman, a bit more of her personal side.
But what if you just read about Her online, dream on Her pictures, and maybe visit Her just once? What if you want to know more about Her? That's why I thought it could have been a good idea to interview some of them, starting of course from those I'm closer with, those I'm serving for the longest time.
I first saw MsClassy online in 2008: I was just starting exploring my slave side, didn't even know I was a moneyslave..and I remember what first got me, what didn't make me sleep for days, was the view of her perfect feet. Today I still consider Her feet the best I've ever seen but, of course, since then I also became her slave, falling more and more under Her power, spoiling her more and more.
CLICK HERE AND BE AT MSCLASSY'S FEET RIGHT NOW
So the other day I asked her if She would have been interested in answering a few questions…and here it is what came out of our short conversation.
First of all, thank you so much for taking a bit of your precious time in answering these questions… I will surely find a way to properly thank you for this… anyway, I've noticed that recently you've been having lots of group sessions on cam. Can you tell me more about this? Does every guy know about the other one? Do they like it?
Oh, group sessions are my new favorite! What could be better than draining several subs at the same time?! Of course, they know about each other, moreover, many subs contact me asking to let them know when I have such a session so they could join it. I think they love the idea of me making good money per minute, paying the raise the rate game or sending me multiple PayPal transfers during the session! They feel happy spoiling me that big, and the more I take, the more it excites them. Extreme draining. Perfect.
And since we are talking about sessions, do you like to see your slaves in an online session?
Yes I do. I prefer cam2cam sessions where I can really control what's going on on my sub's side. I so much enjoy seeing their humiliated faces, watching them getting weaker as I'm teasing. And when I have someone who's into sissy/ass play/cbt, most of times seeing them is a must. I don't like role plays and I don't like pretending. It's like when they just describe doing this or that but not really doing it. Come on, I'm doing all this stuff not only for money! I'm so damn into this and I Love seeing my puppies in action, controlling them for real, not only on words. Though if there is a paypig in my session, I don't really need to see them. There is no action during these sessions and there is nothing for me to look at. And I also know that most of well paying subs prefer to hide their personal info (and face). I respect my sub's privacy as long as they don't ask me for blackmail.
Considering the time we live in, what's your thought on blasphemy sessions?
No, I'm not into that. Wouldn't ever do that.
Going on a more personal kind of question, on what do you spend the most? Shoes, Lingerie, hi-tech, or else?
I don't spend my own money on lingerie and shoes. Seriously, it's my sub's job. I choose what I like and they pay for it. I have several shopping pigs and they satisfy all my material needs whenever I want it. So, as you can guess, I have a lot of money to save, and in May I've bought another house (in a better place) for myself and going to start working on interiors soon. 
What kind of music do you like?
Deep House is my favorite now. Perfect as a background music.
Can you name 3 people you admire and tell me why you do?
Me, myself and I. I don't have any idols and never did.
How did you start in financial domination? When did you understand your power over slaves?

I believe it was 2006. The fact is I've always felt I can easily dominate and use men, even when I was a little girl I knew that! I got bored in the Girl Home Alone category really soon and then I tried Dungeon, started learning all about BDSM and fetish, and then I found out it was really my thing and I decided to make it my lifestyle. I didn't even know about financial Domination then, I just enjoyed making men submit and do crazy things to please and entertain me.
Online domination, and especially findom, is becoming some sort of "the cool thing" at the moment. Every girl thinks she can be a findomme, every girl thinks she can easily make money with this. What's your advice for them?
That's really funny and I always laugh hard when I open Twitter… I have no idea what are they hoping for, but it's not going to work for 99,9% of those girls cause they don't know what is FemDom about. They think that posting some sexy (ugh..) pics and asking (haha!) for 10-20-50$ would work out?! Seriously? I won't give you any advice. They will just give up themselves after some time cause even a newbie sub can see whether it's a Goddess or just a fake looking for easy money. If the girl really feels her power and wants to become a pro-Domme, she will never make such mistakes. Subs should search for us and beg to serve, not the other way.
I'm sure many slaves, reading this interview or just looking at your pics, are there wanting to serve you but…what's the proper way a slave should get in touch with you? How can he help you in making the session with you his best ever?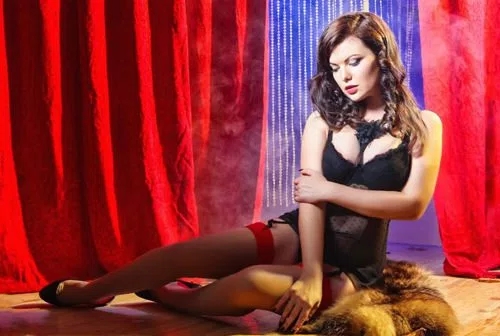 If you feel like you have something to please me with, that you can serve me in any way, tell me a little about yourself first. I'm not a mind reader and I honestly don't like subs wannabe who doesn't know what they need from our session. Even being that experienced, every time I meet a new sub, my first question for him is: what are you into?
Again, thank you so much for all these answers, Goddess. And for guys reading it, remember that you can find (and spoil) MsClassy in Her videochat by clicking here. This is the best way to show Her you are serious about serving. But do it at your own risk…you'll surely have the best moneyslave experience ever…but your bank account won't be as happy as yourself.