My last crazy tribute to FeetGoddesss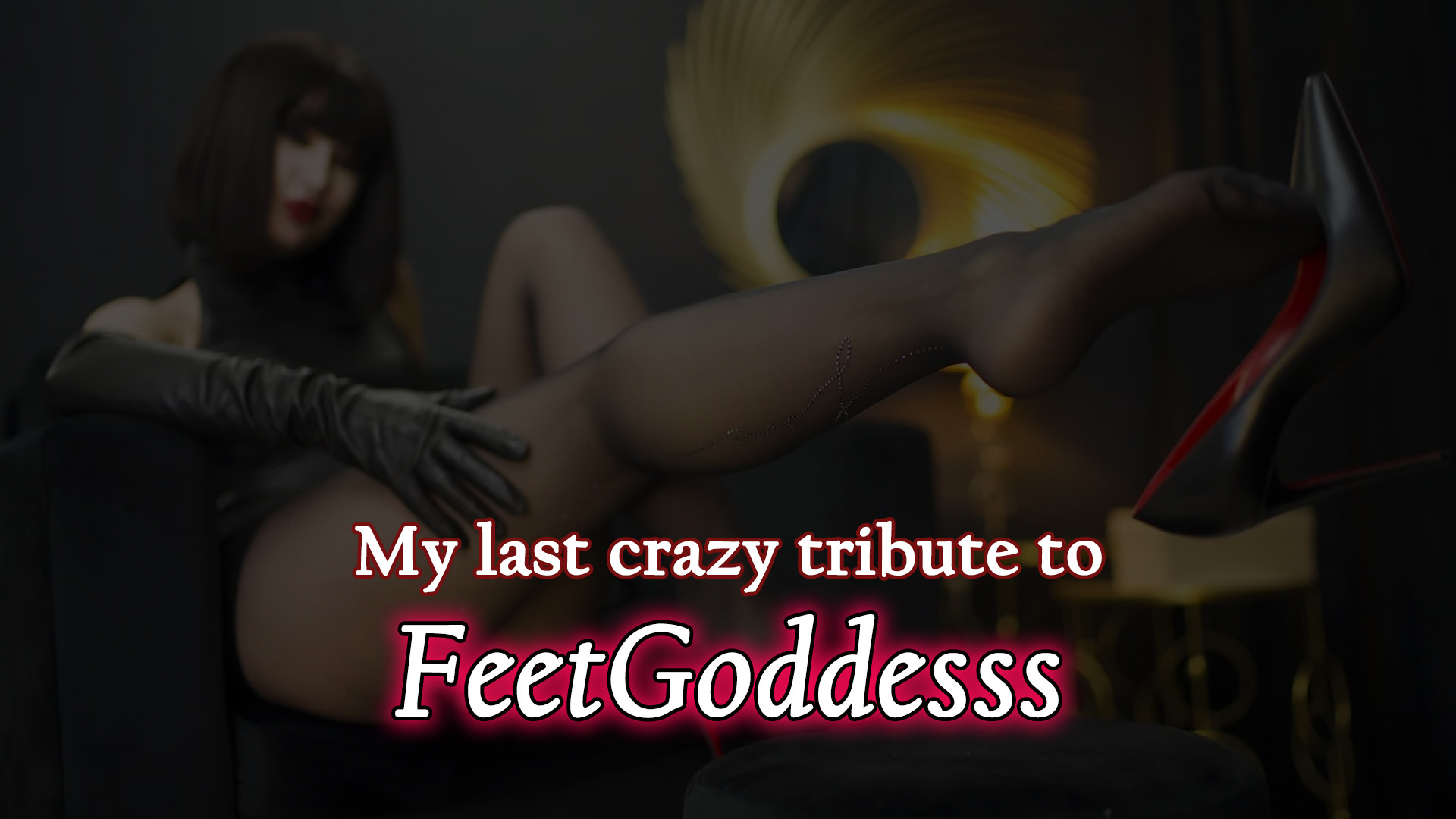 So, as I'm sure you all know, I'm in a "slowing down" period, meaning I'm trying to spend way less on Financial Domination. Why? Well, it's kinda simple: because I've spent way more than I could.
But why did I decide from one day to another to slow down? What made me suddenly realize it was time to put a stop to that? well, it was…
My last session with FeetGoddesss
My last session with FeetGoddesss was one I won't forget easily, and I'm sure you'll agree with me after reading this.
It was a night between the end of January and the beginning of February, one of those where I don't expect anything to happen, basically just hanging around my computer before going to sleep.
While doing so, I noticed FeetGoddesss was online, so I decided to have a quick look. I mean, what's the harm in having a look, I thought. Boy, I was wrong. That was a big mistake, from my wallet point of view at least.
She was dressed in a fantastic and, for her, a bit unusual way. She was wearing a super short red leather dress, with a zip on the front that made it even sexier. With that, She also had a pair of tan pantyhose (Wolford, I learned later) that, matched with a pair of beautiful and expensive Tom Ford sandals, made her legs and perfect feet shine in full glory.
Needless to say, I was totally hooked in a matter of seconds. What I thought would have been a quick look, turned out to be a long staring. In silence, for the moment.
After a while, she noticed I was in her room and at that exact moment she said, looking right into the cam:
Someone is going to spoil me big time tonight
Deep inside, I knew she was talking to me. It's not like she said my name or anything, but I just knew. And I got it confirmed a few seconds after that when she wrote me a private message ordering to send Her the first tribute.
Spoil me. Then the fun will begin.
I saw her typing it, and smiling it after having sent it. That smile made it impossible to resist the temptation. It just felt like the right thing to do. I quickly sent her a tribute of 50 USD and waited to see what was going to happen. But that wasn't enough for her. She just laughed and said out loud:
That's not enough. Send again, moneyslave
The way she said that, the look on her face made it once again impossible to say no. I didn't even blink and sent her the second tribute. After that, she allowed me to start a private show. 
As soon as the show started, I saw she was busy doing something on her computer. I couldn't understand what she was doing, but not long afterward she explained:
It's only me and your wallet now.
She had disconnected from all other sites she was on! That way, she was able to focus on me or, better said, on my wallet. Knowing how busy she always is, made me feel privileged and even more excited and willing to serve her as best as I could. It doesn't happen often to have her full attention, so that really felt precious. I was willing to do my best to serve her. Not that she gave me any chance not to, anyway.
The non-stop tease
It was clear that She was going to give me probably the hardest time ever that night. The session lasted for a very long time, and she never stopped teasing me. It was incredible.
The look in her eyes burning with passion, her perfect red lips, her tongue touching them at the exact right moment, and, of course, what made me fall in love ever since I've seen her for the first time: her incredible feet movements.
She kept moving those feet and toes in front of the camera in such a hypnotic way that I almost forgot to breathe. She made me lose track of time, and to don't care about anything else but Her and that session.
A few times she also faked a footjob, with her feet in the air in front of me and a dildo moving inside them at an increasing speed, while she kept ordering to wank faster and faster…only to stop just about when I was going to explode.
Thinking back to that session there is one thing I understood: ever since it all started, her plan was for me to be as weak as possible. She wanted to bring me to a level of weakness I never reached before. That's why she kept playing the tease and denial game multiple times, always bringing me to the edge of cumming only to stop the countdown with an evil laugh, asking for a tribute in order to continue.
And also there is one special thing she kept saying that night, something that I always considered the most effective way (if done correctly) to obtain anything from me…
Send me a tribute if you don't want me to end this session right now.
A simple, yet incredibly powerful sentence especially when said while I am at the edge of cumming, after losing all control of my actions. And mind you, I really believe this is a tricky thing to say for a Goddess. If said at the wrong moment, it could easily be a huge turn-off for me, making me react oppositely. But FeetGoddesss knew EXACTLY when to say it and how to say it…and she also did that more than once that night. The last thing I wanted was for that session to end. She knew that and used that to keep me sending tributes.
The final tribute
After a while (I don't even know how much time has passed) I was really exhausted. My balls were super full since I was constantly on the edge of cumming but never allowed to. I was desperate and at the same time super excited and craving for more and more.
Her feet in those wonderful pantyhose kept waving in front of me, her perfect red lips kept saying dangerous things, while her tongue was touching them from time to time. It was incredible. And I was totally out of control.
Now you will buy me a new pair of Louboutins
Just like that, out of the blue, after many tributes and a seriously long session, she added this. It didn't actually sound like an order, more like a prevision. More like describing something that she knew was going to happen.
She knew I was in a sort of trance. She knew I was as weak as I could have ever been. She knew buying shoes is not something I usually do. But she had me at her fingertips and she was going to abuse that power.
I hesitated. It would have been a huge 600 Euros tribute to send, and something inside me was still somehow resisting that idea. I remember even trying to bubble something in chat like "no Goddess…I can't…" or something stupid like that. But she had a different opinion of course. She knew she had all the power to make me say "yes" to anything…so she took me bits by bits into her spider net.
Since I was in that state of trance, she knew she had to guide me to what she wanted me to do. So she started giving me small orders while using the tease and denial game to make me say "yes".
At first, it was just a simple "look at your credit card", then something like "click the send tribute button", then the detailed instructions to what I had to type and click. I was like a zombie, that was the only way she could have made me do that. Small, simple tasks done slowly while being teased to death. All those tasks were all done with one purpose: bring me to send a 600 Euros tribute. Did she succeed?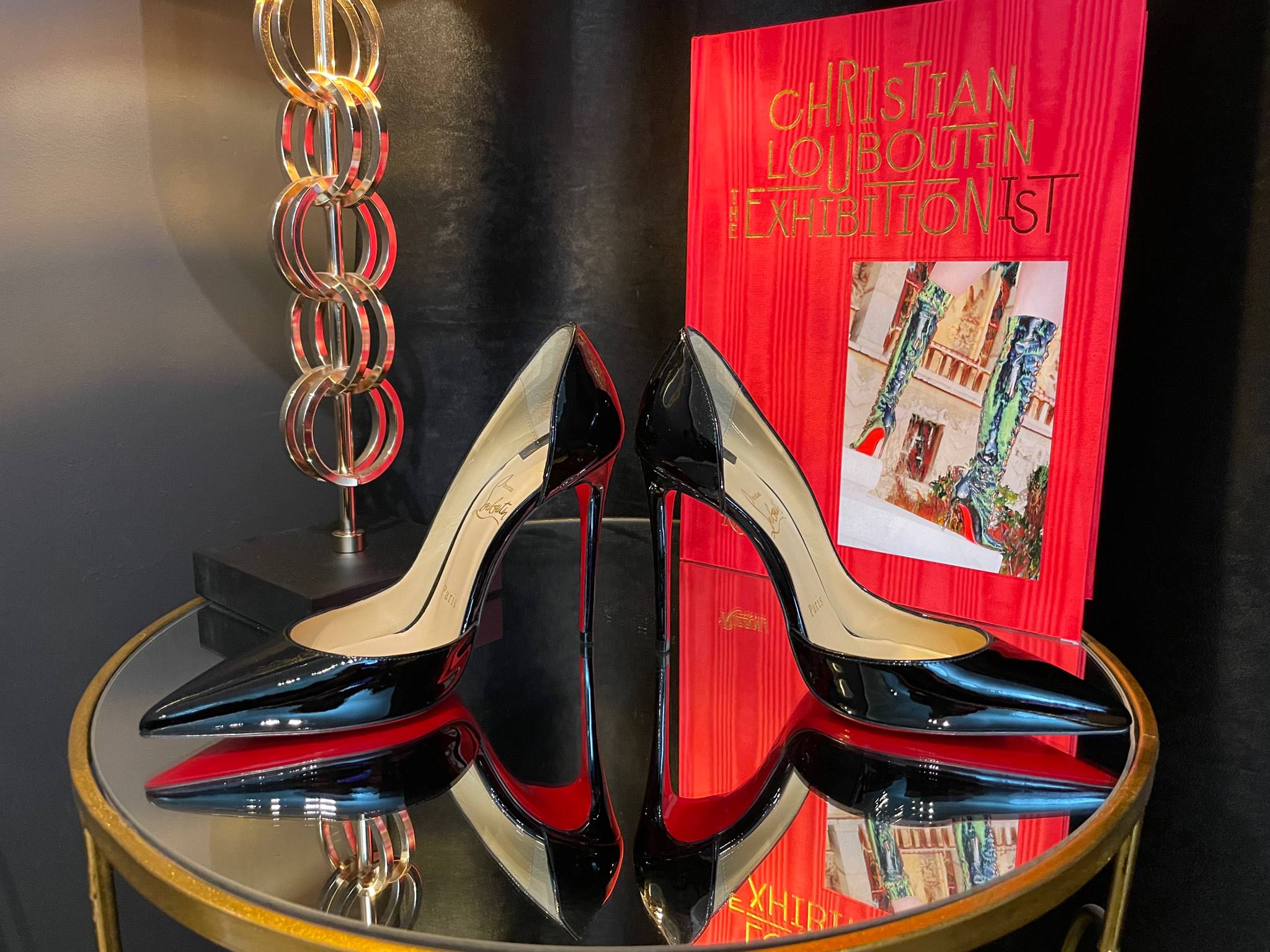 You bet she did. At the very last thing I had to do (the click on the "send" button) she used all the most intense teasing she had used till then, only concentrated in one, huge, irresistible countdown… and when she arrived at the number 3…she stopped. Smiled. And only said
"Now you will buy me the Iriza Louboutins, and then you'll cum like you never did before. Click that button."
And it happened exactly as she said. This new pair of Iriza Louboutins are the result of that tribute. And every time she wears them I get reminded of that night. Of the night that gave me the reason to slow down for a while. Of the night when I had the most intense, incredible, session ever. The one where all my deepest and most secret fantasies became reality right in front of me.
Because FeetGoddesss is pure magic. Pure, powerful, unstoppable magic. And remember: if she wants you to do something, you WILL end up doing it.