Goddess Ambra: Beautiful, unexpected, obsession
Goddess Ambra: Beautiful, unexpected, obsession
Seems like life is full of surprises and, sometimes, the least expected ones are the most beautiful ones.
As I wrote a while back, I'm not in a very good period for my financial domination spendings: real life problems are limiting my ability to spend and, obviously, to enjoy my fetish at it's full extent.
Being in this situation, I really never expected to have some great experiences (although I did, as you know if you follow my blog), but even less to have the ability to actually find a new Goddess I would go crazy about.
That's because, usually, less money means… no way to get the attention of a Goddess you've never been in touch with.
Unless… She's too much for you to resist. And no matter what your financial situation is, you'll do ALL in your power to spend and get her attention.
That's EXACTLY what happened to me with Goddess Ambra.
It was a night from few months ago, one of the usual nights. I was alone, I was tired after work, I was looking at my Twitter feed.
I honestly don't know who shared a post from Her Twitter…but I do remember that as soon as I saw it, I was totally hooked.
It was from one of her videos: she was driving a slave crazy while being dressed in just a pair of pantyhose and a bra. The whole scene was magnificient…She was magnificient.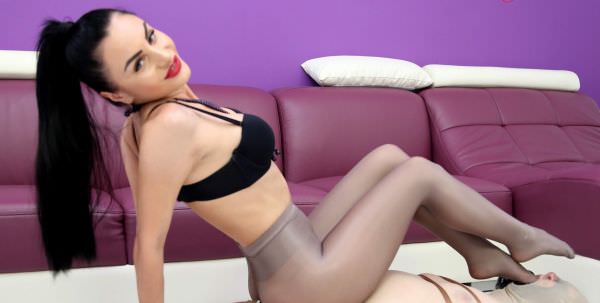 I literally jumped into her Twitter stream, looking at one picture after another. Her magnificent body, her green eyes, her true passion for nylons. I was out of my mind already.
Needless to say, I was desperate to see her in cam. Desperate to feel the power of a Woman so beautiful on my brain. Desperate to see what I would have done under her control.
But it didn't happen for a few days. She's of course very busy (and surely I didn't think I was the only one running after Her), so I had to wait my turn. Of course after having sent a first tribute, just to let Her know I was serious.
And then, a week or so after that, it happened. She allowed me to see Her live.
Let me save yourself from the waiting: Yes, it was a magnificient session. More than I could ever imagine for a first session with a Goddess.
It's like She could read my mind… She knew what would have drove me crazy, and She wasn't afraid of using it to get more and more from me. She was so sensual, so aware of Her beauty, so aware of the power She could have on me.
Every move, every little talk, every look was perfectly aimed to get me under her Power. And so I was. Unable to go away, unable to think of anything else but Her.
I quickly learned that She has a genuine and deep passion for nylons, specifically for Wolfords. As I do. And what also really hit me was her incredible beauty: green eyes, long black hair, an ass to die for (literally), and probably the most attractive feet I've seen since a very long time.
When the session ended, I was left with the feeling only a few Goddesses managed to leave me with: pure happiness.
Drained? Of course I was…but I didn't care. I knew I had spent more than I should have done, considering the period…but I didn't care. It was worth it, because I was happy. Happy to have met Her. Happy to have been able to spoil Her as She deserves.
Needless to say, that was just the first session… Because I'm hooked now. And there is no way I can be without Goddess Ambra now. And if you don't believe my words…click here and see her Live. Trust me, you'll agree on everything I wrote here. Everything.