Why "Ruin Me" is NOT a good thing for Findom
Why "Ruin Me" is NOT a good thing for Findom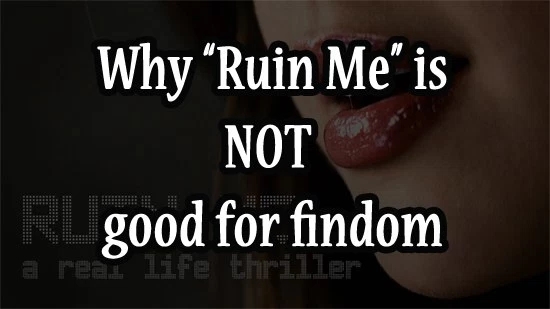 Judging from the KickStarter page where the project is getting funds from, it seems that it's gonna happen. "Ruin Me", a real, mainstream movie about Financial Dominationwill actually be made and distributed in cinemas (i guess, or at least on TVs). It looks like to be of an high quality level as well, featuring Ceara Lynch (probably the world most famous findomme) and with award winning director Julian Shaw.
Is this a good thing for the whole findom community? NO, no, no and again NO.
Don't get me wrong, i'm sure it will be an awesome movie and i am absolutely looking forward to see it (because i think Ceara Lynch is naturally amazing on screen, so she will be great)…but for us, moneyslaves and findommes, this won't be ANY good.
The reason is kinda easy: once more and more people will know about financial domination, what will happen is that there will be even more "goddesses wannabe" and A LOT of "slaves wannabe".
Hundreds of decent looking girls will think "hey, if she can do that, why can't i? All i need is talk shit to a guy and ask him money!". In no time they will jump on Twitter, search for "moneyslave" (ops…guess my name will come up) and contact us with the same, stupid, classic messages. Things like "hey, do you wanna be my slave?", or "i'm beautiful, serve me"…AS IF WE DIDN'T HAVE ENOUGH OF THEM ALREADY!
And what about all those guys that will surely be teased by the whole idea, jump on the moneyslave wagon, start ACTING as a slave (those pathetic ones, with the same usual things to say and do), and be in touch with all goddesses looking for FREE ways to get a bit of this?
In a few words? Big time wasted for us, real slaves, and for Them, real Goddesses.
Oh and let's don't forget the dozens of people (famous and not) that will come and try to give us help, to take us away from this psychological problem (surely they will identify where it comes from), to tell us this is wrong, dangerous, pathetic and bla bla. Maybe some talk shows about this "new fetish ruining lives"? And some bloggers writing about "how to get rich if you are a nice looking girl"?
Do we really need all this? No, we don't. But i'm afraid there is nothing that can be done about it: that movie will most probably be made…and i am pretty sure it will be a huge success.
Take a look at this trailer, i think you'll agree with me that it surely looks awesome enough to be a star.
This is a repost of an old article. In September 2016 i had a server crash and all site content got lost, since then i've been trying to repost some of the old articles