The Voyeur Effect
The Voyeur Effect

There is a very common way of getting pleasure: looking at others doing things we like, especially if they do it better than us.
It's quite simple: if you like soccer, for sure you'll end up looking at Ronaldo and dreaming to be like him. If you like to sing, you'll end up dreaming to be one of the biggest stars, and most probably you'll do that by learning more about what they do, how they perform and so on.
CLICK HERE TO LET GODDESS ISHTAR FUCK YOUR WALLET
It's almost like being a Voyeur, it's like looking into someone else life to get personal pleasure (even if in form of just a dream).
And what about Findom?
It's exactly the same. We read about what another slave is doing and, especially if he is serving a Goddess we dream of, end up imaging to be him, to do what he did, to experience what he did.
More often than not this leads us to actually do our best to be like him, to emulate him, to feel what he felt: it's natural, it's obvious…and it's exciting.
It happens to me as well, more or less every day, thanks to Goddess Ishtar stories.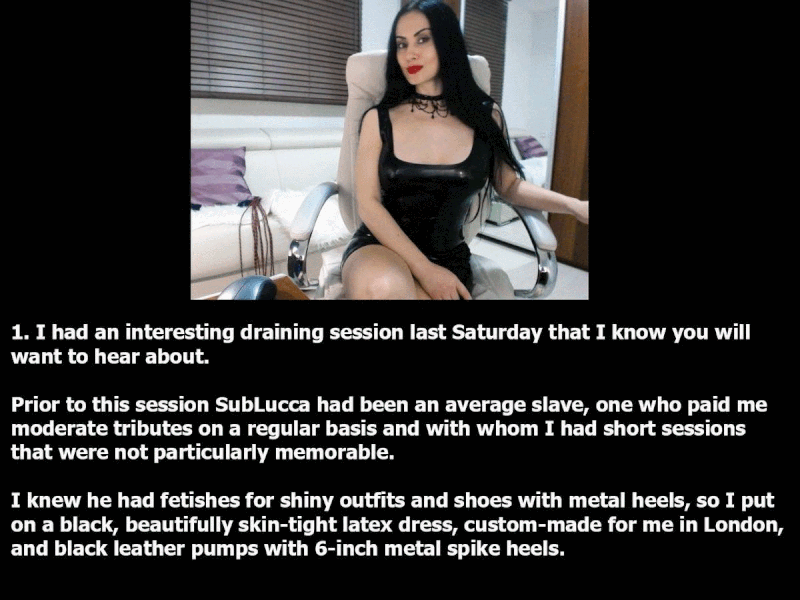 She posts them constantly on her Twitter and inside her cam profile picture Gallery (here). Some of her stories are quite common among Goddesses, as She basically just talks about what some slaves bought or sent her.
But what makes her really special is when she tells in detail how a specific session went. Her ability to write is exceptional (I personally think She should write a book) and, obviously, her sessions always have something incredible to say.
She will post a series of pics with herself and, by the side of each of them, a piece of the story. This makes the whole thing even more exciting because while you read it you can actually look at Her, see how She was dressed, how She teased the slave.