The 10 commandments of a moneyslave
The 10 commandments of a moneyslave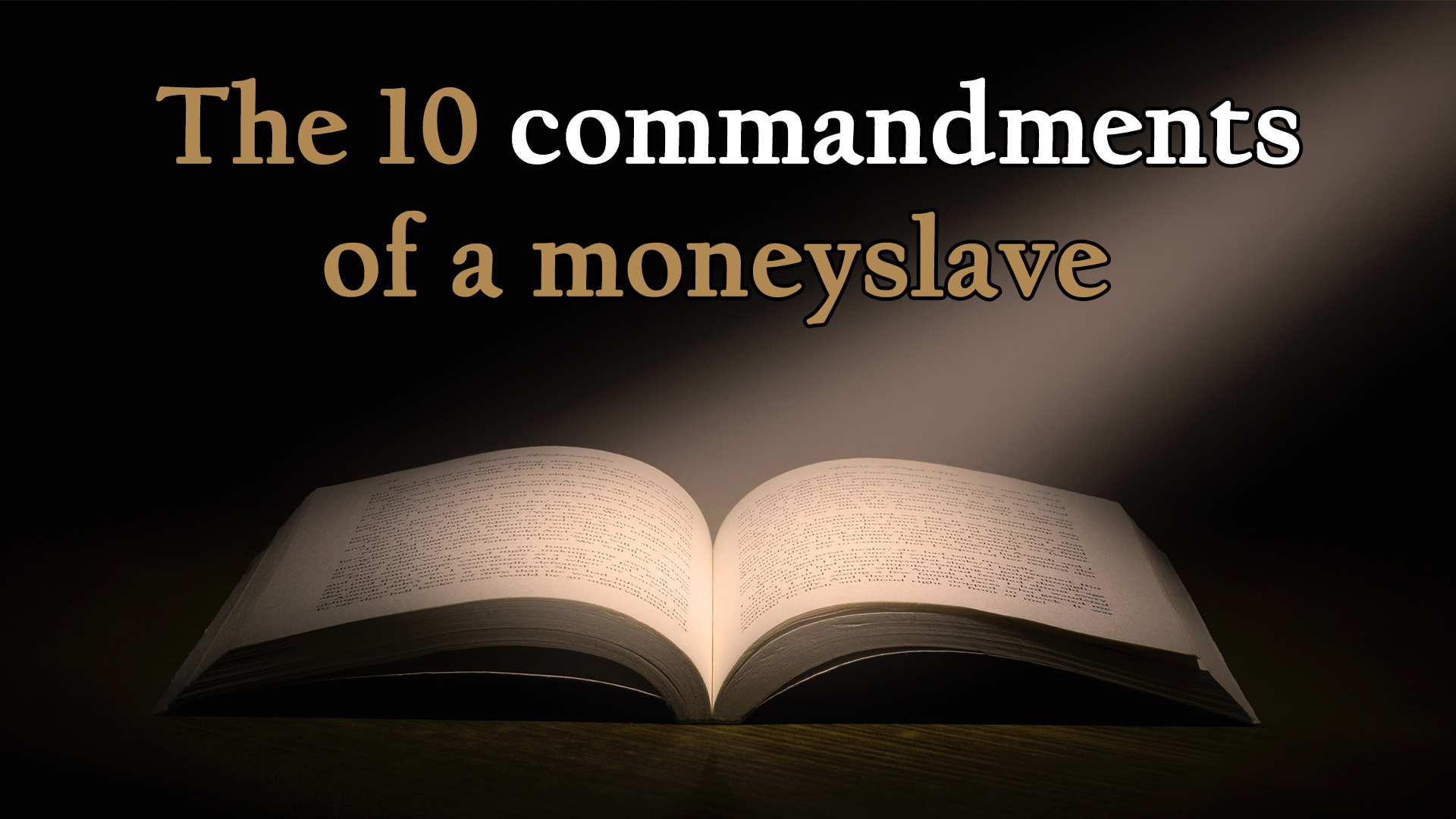 I have been a moneyslave for nearly 12 years now, and I think my experience can be useful to those just starting up into this. Through these years I made mistakes, lots of them. But I also spent some fantastic time with beautiful Goddesses. And I believe my success also comes from following some rules that, I believe, every slave should follow. So there they are and, please, you are more than welcome to comment on these.
1 – Don't lie to a Goddess
If you like to a Goddess, you will be the first one to suffer from that. Your session with Her won't be as great as it could have been and, in time, she will find out about your lies and lose trust in you
2 – Don't hide your true nature
This is very important especially during the first sessions you have with a Goddess. She can't read your mind, She needs to know exactly what you are into so that she can give you the session you dream of
3 – Don't settle for less
It's always tempting to spend less money. You see two Goddesses that are somehow of interest to you (or look like it). One is clearly cheaper than the other one, but she is also less beautiful, has less style. You still like her, but not as much as the most expensive one. Well, don't go with the cheaper one just because you want to save some money. You will end up spending with the cheaper AND spending with the most expensive one since you will crave for Her anyway.
4 – Let go of your regrets
It's difficult to avoid regrets. We all have them one time or another. But focusing on them, or letting them turn us away from our true nature is simply wrong. You are doing what makes you feel happy, you spent what you could spend at that moment. Don't regret it.
5 – Never be a freeloader
If you really consider yourself a moneyslave, you will never, never, ever pretend ANYTHING for free from your Goddess. Always remember the value of Her time, the value of Her attention. And act as you acknowledge it.
6 – Think about your loved ones
It's easy to lose control for us, but that never has to take your mind totally away from your family. If anything, take some precautions. Make it more difficult for yourself to spend more of the budget you thought. Your loved ones might be hurt by your actions: don't let that happen.
7 – Respect the roles of the game
You are the slave, She is in charge. All the time. Never think for a moment that it can be anything different than this. She's not your friend, She's not any Woman: she's your Goddess. And you always have to treat her as such.
8 – Don't waste your time
The internet is full of girls (or even guys pretending to be girls) that think financial domination is easy money. They think all it gets is to ask for money from a slave, call him in some dirty ways, and he will just pay them. Don't be THAT slave. If they think like this it's because we've let them think like this, and we must work together to stop this nonsense. There are some of us who simply can't distinguish a real Goddess from a fake one: this has to stop. Look around, document yourself, or simply compare those instadommes with the real Goddesses out there. Do they act the same? Do they do the same things, in the same way? Can't you really see the differences? I know you can.
9 – Always thank Her
At the end of every session, or after she allows you to tribute her, you must always thank her. She just gave you what you wanted, she just spent some of her precious time with you, and she allowed you to spend some truly exciting time with her: the least you can do is be polite and thank Her for this.
10 – Write your own story
Each one of us is unique, there is no need for you to pretend to imitate someone else or to even compare yourself to others. You are who you are and, providing you will follow all these commandments, your experience as a moneyslave will be as valuable as the others. Other slaves can have different tastes, different amounts of time and money to dedicate to this, different things they like: but they are not you. Be yourself, enjoy financial domination as you think it's best for you, and don't compare yourself to others. If anything, look for ideas, suggestions, tips from other slaves: but never think their story can be exactly like yours. And also stop thinking because you have less money than them, you can't be a good moneyslave. Financial Domination is about submission, total financial submission. The amount is not important, it's how much it really means to you that is important.