Goddess Adriana: When elegance meets power
Goddess Adriana: When elegance meets power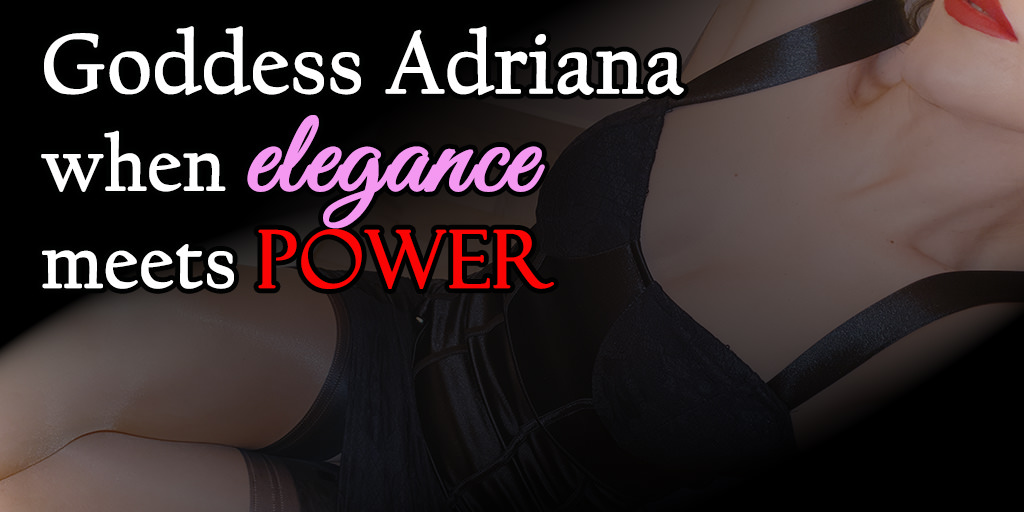 It's no secret that Goddess Adriana is very special to me: if you've followed this blog long enough, you'll know that what I feel for Her is deeper than the usual infatuation for a Goddess, and this brought me to try things with Her that I've never tried with anyone else before.
But why is that?
Of course, it would be wrong for me to reduce my feelings for Her to just a single characteristic, a single aspect of Her. But I'm sure there is one thing, one specific thing that anyone who has seen her at least once, noticed and will agree with me on.
Her impeccable dressing style
Each time you visit her videochat, you'll know that you will be in front of a Woman dressed in a perfect, elegant, flawless way. She takes care of everything till the minimum detail: her hairstyle, her makeup, her dress and nylons (of course, always present), her expensive shoes…and even her earrings and necklace will be different depending on the outfit she chooses.
This, alone, is something so unique and rare that will immediately put you at your place: you are inferior, Her power starts getting you as soon as you see Her. With no chance to escape.
My last session with Her wasn't an exception
For a few days, I'm all alone at home. This, of course, makes me way more vulnerable to financial domination, since my instincts can't be stopped by my lack of privacy. So, a couple of days ago, I was sitting at my computer reading the news, when a message on Skype popped up.
"I think you should stop doing what you are doing and serve me. I know You can't say no to me"
It was Goddess Adriana of course, and reading those words made my body start to react in a very familiar way. I needed to see Her. I needed to be under Her power.
In a matter of minutes, I was in her chatroom.

As I said above, this wasn't an exception to her impeccable dressing style. She had straight hair, with some of them falling partially covering her beautiful face. Her perfect makeup was made more intense by the bright red lipstick, while a pair of long earrings matched supremely her face.
As a dress, she had a short black one with lace on her sleeves: what made that dress special was that it left her shoulders in full view. Under that, a pair of Wolford Satin Touch pantyhose and Louboutin's So Kate Patent black.
My eyes nearly popped out when I saw her. I couldn't close my mouth and didn't even type a word for a quite long time, making her wonder if I was actually there or not.
She crossed and uncrossed those endless legs, rubbing them together to let me listen to the noise of the nylon. Her constant dangling made the whole situation even worse for my brain. In a matter of minutes, I was totally lost. Deeply falling for Her, ready to do anything she was going to ask me. Ready to spoil her, to serve her, to worship her in any possible way.
On top of that, she kept whispering tempting words and commands the whole time, with such a voice that couldn't be ignored. I was wearing headphones, and it really felt like I was being hypnotized on purpose by Her. It felt like she used that tone of voice on purpose, to enter into my mind, even more, to make me even weaker and hopeless.
And she succeeded. I spent more than 600 Euros and, when the session ended, I didn't regret any of that. Because every moment spent with Goddess Adriana, is a precious one.
Ready to serve Her?
Serving Goddess Adriana is probably one of the best decisions you'll ever take. If you are ready to take this step, click here and visit her chatroom. You'll be one of the many that get trapped by her beauty, elegance, and power. But isn't that what we all want?