A great Goddess values the sacrifice, not the amount
A great Goddess values the sacrifice, not the amount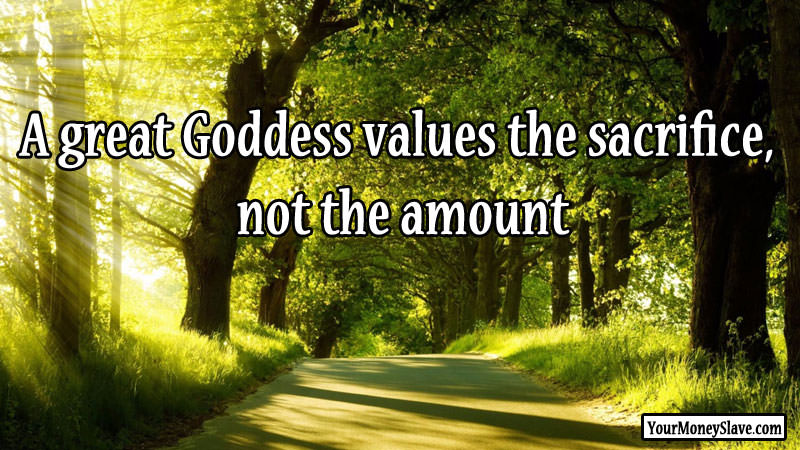 Something that happened a few days ago, made me think about another reason why a Goddess is a real one or just someone who's here for the money and nothing else.
I sent a not so high tribute to a Goddess (i admit it wasn't high) because i'm in a somehow difficult situation at the moment…but that was ALL i could offer. It was a great sacrifice for me. Her answer made me reconsider Her as a Goddess…actually made me see Her as a not so powerful or smart Goddess. She basically insulted me, stating it was a way too low tribute and that i should have sent more in order to please Her.
Now… some of you could argue that it was correct of Her to do so, because maybe She can't be open to like any slave, She can't see value in everyone. But we are not thinking of a 5$ tribute here, it was still a somehow nice tribute. She could have reacted in many different ways…but the ways she reacted only showed me what she really is.
She is there ONLY because of the money
She doesn't care about dominating men, She doesn't give a damn f**k of being a Goddess. She only wants money. And that, to me, is a sign of weakness. It's a sign that says "stay away from this one, She's not worth it".
As someone said once, there is a higher value in a slave giving away his last 10$ than in a rich one giving away 1000$ just because he owns them and doesn't know what to do with them. A smart Goddess should recognize this and actually understand the real value of a tribute.
This one didn't, and won't see a tribute from me ever again. Did she lose something? I don't know, but i certainly didn't lose my time serving someone who's not worth it.