Every PayPig's biggest problem: the rush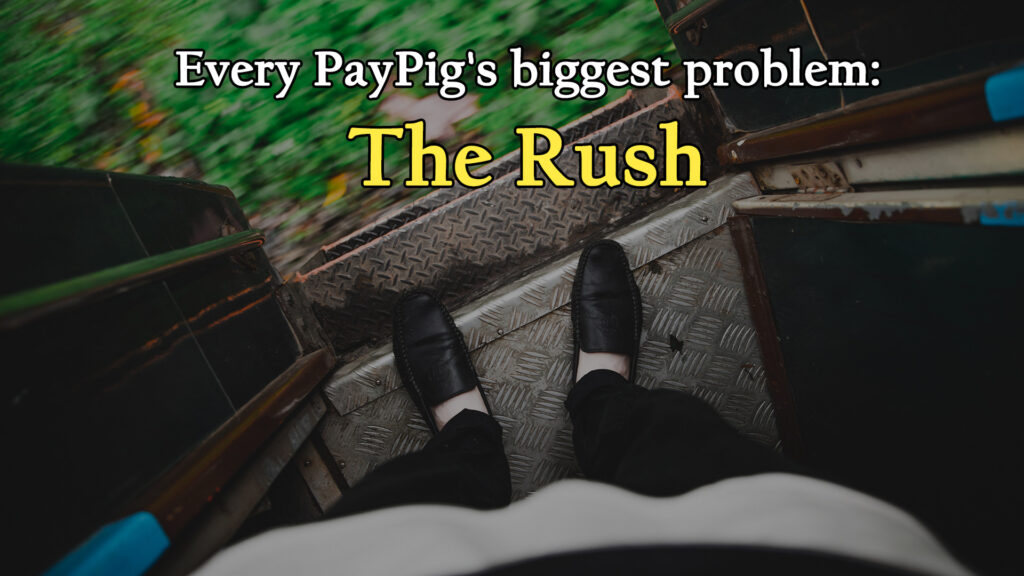 One of the things that always upset me more about my Financial Domination "life" is the amount of money that I end up wasting: lately, I think I identified where the main problem is, but before getting into that, let me explain what I really mean about wasting money in Financial Domination.
Here's what wasting money on Financial Domination really means
First of all: if I thought that Financial Domination is just a waste of money, I would have stopped years ago. That is NOT what I think. Financial Domination is part of who I am, of my sexuality, and spending money on this makes me feel sexually satisfied. BUT. Not all money spent on Financial Domination is spent wisely.
I had countless bad sessions, I've sent countless tributes to goddesses I end up spoiling just 2 or 3 times in 12 years, countless sessions that left me just angry with myself for days after they happened.
Wasting money for me means paying for a session that ends up being totally unsatisfying. It means finishing the session and, for many days following it, keep thinking "damn If only I had spent that money with one of the best Goddesses out there…". That is precisely the whole point. My wasted money is the one spent for a session I really don't enjoy, especially if, rationally, I could have easily spotted it was going to be a bad session…but I decided to do it anyway. And the main upsetting thing is the thought that that money could have gone to a way more worth Goddess, if only…
The biggest problem: the rush
Picture this. It's late at night, you are home alone, and you feel the urge to have a session. You start browsing the internet looking for one of the best Goddesses you know, hoping one of them will be online to drain you as good as you feel you need. But no one of them is around. No one.
The rush of having a session is still there (or, better said, you are still excited as f**k), so you start looking around camsites or Twitter, searching for some Goddesses you never served before that, judging from what you can quickly see, could still give you what you want.
That's it. This is what will most probably make you waste money.
No good decision ever arrives from being in a rush. Even more, if you are in a rush AND excited. If you are running from one site to another, in a desperate attempt to find a great Goddess, most of the time you will end up settling down with a girl that "more or less" can have potential…and she will not. Believe me. You WILL waste your money.
The solution: use your brain (the one inside your head)
I know very well how we all feel in these moments, and which brain we are actually using (hint: not the one inside your head). We could easily solve the problem and don't waste money, but we fail because we just can't think straight. Again, we are not using the brain inside our heads.
What would the solution be? Easy: when that kind of situation arrives, get off those sites and just wank! Wank on your own, cum, and forget about that feeling. Then, when you are NOT excited or in a rush, browse the internet looking for new "potential" Goddesses. Follow them, see what they post, what they do, how they do things. In time you will get a pretty good feeling of those that could potentially be a good "fit" for you, and if you are lucky enough one of them will be online the next time you are in this situation.
It's true that, in the end, we are all just a bunch of wankers. But what we are looking for is more specific than others and, often, more difficult to find. We usually need a connection with the Goddess, we need Her to behave, talk and act exactly as we dream her to do. There are many great Goddesses out there, but finding them takes time and dedication. It's never a good idea to jump into a session with someone you've never seen before.
Stop the rush, calm down (yeah, wank to do that), relax and use that brain. You will have other chances with the Goddesses you crave for, no one ever died for not having a financial domination session. Just calm the f**k down in those moments, and don't waste money.