I just had the most intense Teamviewer session ever
I always played a bit around Teamviewer sessions. Always thought of how it would have been…I actually gave my details only once to a Goddess that I knew wasn't dangerous at all, just playing around a bit. Always thought how it would have been with a really dangerous Goddess.
And I always KNEW the most dangerous Goddess would have been Heartless Queenn
Many guys described how it would have been with her, and I knew already that she enjoys it A LOT. She knows how to use Teamviewer and how to use it to get more and more money. The idea excited me a lot…but I was always too scared to try. Till now.
Today I gave Her my Teamviewer ID and Password.
She was in cam, dangling her red heels in the sexiest way, as she always does. Without stockings. I came into Her room and she just asked me: "Home alone?"
I wasn't. My wife was sleeping in the next room…but I wanted to do it. I wanted to give her access to my computer. I didn't tell her what I wanted to do, why I was in her room. But..she started putting her tan stockings on and, as if she could read my mind, said:
"Teamviewer ID and password"
And I did as she asked me.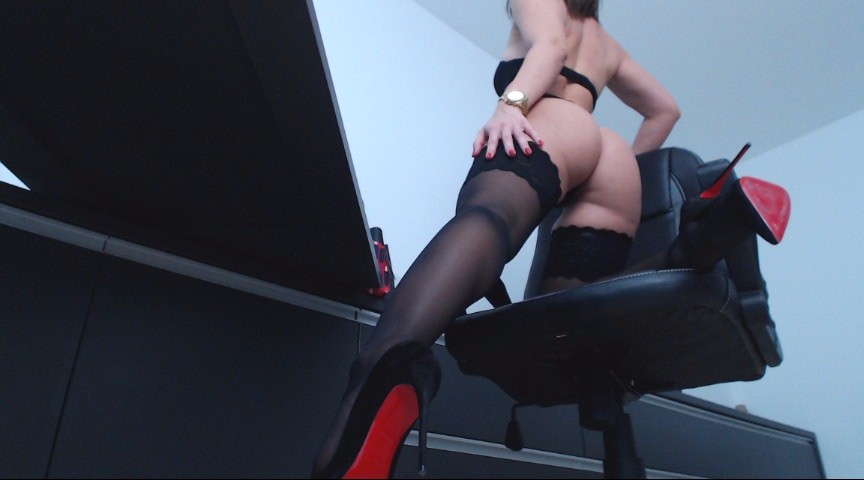 At that point, she made a mischievous smile. She knew after so long, I finally did what she always wanted me to do. And she was totally enjoying it.
She switched on my cam, started a private show in her room, sent her votes and credits. Then…started to make a payment to add more credits. My card didn't have credit..so she kept looking for ways to do it. She was still smiling…enjoying all this so much. And I was getting harder and harder, without even taking my cock out of my trousers.
Then she selected Paypal as a payment option. And, to my surprise, I saw my login details already filled in. She was ONE CLICK away from sending herself 200 Euros.
I exploded. Literally exploded in my pants. I don't remember the last time I had come that much without being able to control myself. I wet my pants, made a total mess…and closed my laptop.
I was in shock. It was probably one of the most intense sessions I've ever had…and it was quick. Quick and intense.
Before my wife woke up I managed to clean up everything, telling her I took a coffee and it accidentally fell onto my trousers. A lie…a huge lie of course. But she believed that.
I honestly don't know if I will have the strength to try this again…but I know that in case I will look for a Teamviewer session… I will surely go to the worst (best) one: Heartless Queenn.