Goddess Adriana is back… and I couldn't be happier
Goddess Adriana is back… and I couldn't be happier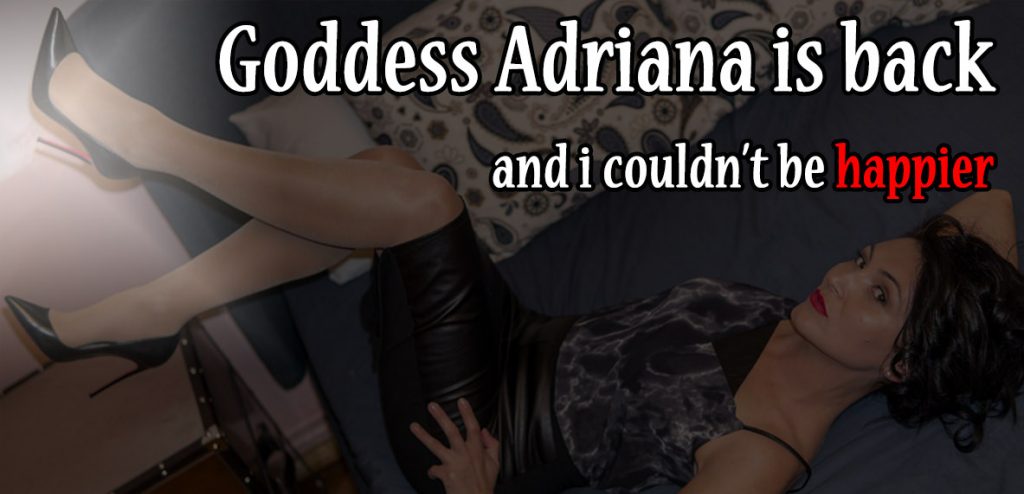 Sometimes life is really amazing: the least expected thing can happen, like someone you thought you've lost forever showing up again, even after years.
If you follow this blog for a while (thank you for that!) you know that there are some Goddesses that actually "gave" me something really unique, something I experienced with them for the first time or only with them. To make a couple of examples, OneGreatDiva is the one that made me a moneyslave, Goddess Ishtar the one I had the most intense experience ever with. And then…. there is one which made me experience for the first time many things, one I could never forget, one I thought left the findom scene for good… Goddess Adriana.
I had a couple of sessions with Her in 2013, but it was 2014 the year I totally got obsessed with Her. It's tough to describe why, as there isn't just a single reason why she hit me so hard, but Her elegance, beauty, style, brain surely had a huge impact on that.
During that year only, she made me experience things I didn't even think I would have liked so much: She was the first taking control of my computer with TeamViewer, the first making me spend more than 2.000$ in a single session, the first making me feel truly owned and loyal to Her…just to name a few.
Then, around the end of 2014, She basically disappeared, stopped being on cam. At first, I thought maybe it was a long vacation, but days passed by, then weeks, then months…till I got the feeling She left for good. Nothing wrong with that of course, I'm well aware that any of the Goddesses I serve and enjoy could decide to stop being on cam and explore something else in real life, leaving me totally out of it with no explanation or goodbye. It's normal, I'm just one of the many slaves…why would they need to tell me anything?
I don't know why she stopped but She made it in a way that let me get used to it in my own time. It's not like she told me all of sudden "this is the end of my Findom experience" (that would have made me desperate, I'm sure), instead I had to learn it in time, always hoping to see her again…till, after a couple of years passed, I lost hope completely.

Boy, I was wrong.
It was my last day of freedom this summer (remember? I was all alone at home) and I was surfing the Findom web, not even looking for a session. And that's when I saw Her. She was online, here on her old profile, the same I've been visiting many many times before.
I couldn't believe my eyes: was it really Her? Was she really back for good? Still in findom or, perhaps, selected something else?
I entered into her free chat and was more than pleased to see that She actually remembered me! It was like no time has passed, everything was exactly as before between me and Her. The same feelings, the same desire, the same needs in myself.
A not too long time passed before I entered Her video. And, again, everything was exactly as before. She is as beautiful as before (if not more), Her elegance remained intact, her smart brain, her sensual moves…everything was as if 4 years didn't pass at all.
The draining of my wallet was pretty hard that night, and more sessions happened afterward. Why did I wait so long before writing about it? Well because I couldn't believe She was really back, I was scared to see her disappearing once again…but now, after a couple of months, I'm pretty sure She's here to stay. And I couldn't be more happy about it.
Goddess Adriana is probably the most elegant Goddess you'll ever have the luck to serve. Smart, sensual, greedy…once you enter into Her net, there is no way back. You've been warned. If you think you have what it takes, click here and see Her for yourself.