Blackmail: 4 ways to escape from it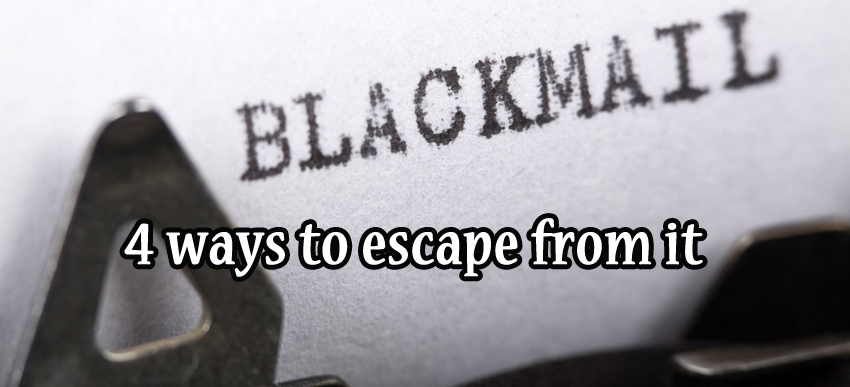 Blackmail is one of the most exciting and controversial fetishes in my opinion, surely one of the closer ones to illegal activity: believe it or not, it's illegal to blackmail someone, even if it's a consensual "game". If the victim goes to a judge saying he got convinced in doing it, most probably the judge will rule in his favor but…
How many of us could (and would want to) sue one of these Goddesses? I mean…first of all it would be stupid because we were the one that wanted it in first place and, secondarily, how can you run after someone you know almost nothing about or lives in a different country?
But yet i get from time to time messages from more or less desperate slaves, saying this or that Goddess keeps blackmailing them even if they don't want to go on, that they risk all their life savings and so on…
How do you stop Her from blackmailing you?
In a few words: it's complicated and it works only if she is smart enough to understand when it's the right time to take a step back.
Good news: all the best Goddesses are of course intelligent and smart enough.
So the first rule is: never play blackmail with a newbie, with a Goddess who's around since not so long or that no one ever heard of. Most probably she is too inexperienced to even play that game in first place.
Ignoring the fact that she can or cannot understand, there are indeed a few ways you can approach the problem.
1 – The Joke
Next time she contacts you, start acting funny. Act as she is just a friend. Tell her jokes, act as if this is all a total joke for you and laugh about it. Keep doing that, and if she doesn't get the message, end the conversation (smiling) saying you gotta go. Leave her with the doubt: "Does he really care? Will i get anything from this?"
2 – The Change
In a calm, relaxed way tell her you don't want to play this game anymore. Be sure to use the word "game" more than once, and to offer her alternatives. Things like "i love the time i spend with you, and i want to be your slave forever. But i'd like to play a different game, as blackmail really doesn't give me any excitement at all anymore.". Even tell her blackmailing is boring you, and that you want to spend your time with her doing something better. Never stop acting calm, and if she insists in the nasty way, leave her with a firm "ok, whatever. I'll go visit someone else" and go. After this, never return to Her unless she is the one getting in touch with you. In that case, keep playing this part.
3 – The Silence
Stop contacting her or answering her messages. Ignore her completely (and i mean completely). Lead her to believe you don't care anymore, or you are totally busy doing something else. If she has other slaves, she will leave you alone and move on. But warning: this works ONLY if she is smart enough to know that she shouldn't really do anything "seriously". If she is stupid, or inexperienced, this could easily lead her in using the info she has of you to contact your relatives or similar to get a reaction from you.
4 – The Threat
This is the worst way to end it, because doing this you won't be able to visit Her anymore, not even for other kind of fun. She will HATE you after this, so be careful if this is not how you want things to end with Her.
Tell her you will report all this to the site she works with. Remember, for those sites a customer is the holy grail, and blackmail is illegal. If you tell the site that she blackmailed you without your consent, she will face big problems with the site, her account could be closed, her money could be kept. If she doesn't work on a cam site, tell her you rill report her to the site you used to send money to her with (Paypal, Payoneer or whatever). Either way, be sure to tell her this is illegal and you won't stop till she faces serious issues. Act as you are more dangerous than her. And leave the conversation in a sudden way, with one last bad sentence like "Ok, you'll see!" and disappear. After that, don't contact her for a long time. She won't contact you as well and you'll be free.
So will i be surely free after this?
No. These are all the methods that came to my mind the first time i faced an issue like this: it happened to me a few times already, and each time i used the method of these that i thought was more appropriate for the situation and the Goddess involved. But that doesn't mean that i can be 100% sure these methods will work in your case! it can even be that She won't stop…so be careful. Always.