I don't know about you, but when I'm watching a beautiful Goddess driving me crazy, I tend to speak a lot. Of course, I don't make lots of sense, as the brain doesn't really work well in those moments, but I tend to keep telling Her how gorgeous she is, how incredible she looks.
That's why what happened last night was PAINFUL.
Goddess Adriana approached me on chat, ordering me to go and see Her, even if I was low on cash. She said, "doesn't matter for how long, come in or I won't let you see me for 2 weeks". Obviously, in no time I was in her videochat.
She was stunning: a back tight skirt above the knee, Cuban tan pantyhose, high heel peep toes, and a nice white top. Simply AMAZING.
But almost immediately, She turned that videochat into the most painful one till now:
Tonight, I want you to watch me in silence.
Just shut up and worship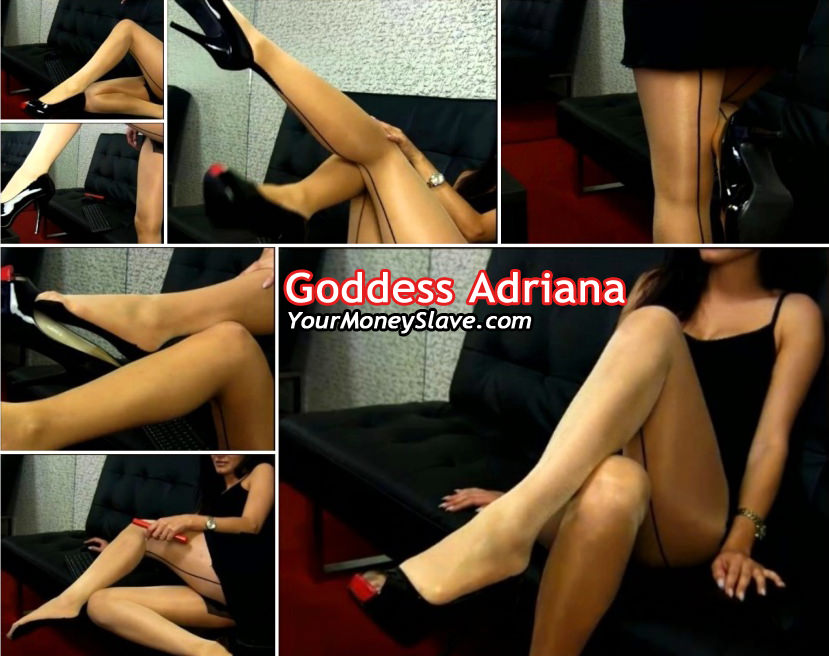 My total devotion for Her made me follow that order literally, and I didn't say a word for about 10 minutes (then I had to go…as money run out quite quickly). Believe me, it was painful. I was there, looking at Her… excited, willing to tell Her how beautiful She is, how powerful She is….and I couldn't. I had to stay in silence. But her microphone was on, so I was able to listen to the noise of her legs crossing, of her shoe, dangling…and I was also able to see her chatting with someone else. But I just remained in silence, as She ordered.
I didn't really think silence could have been torture…till last night. One of the many things Goddess Adriana is making me learn…day by day.