That unstoppable addiction
It's not something I can control, it just happens. I often find myself feeling very strong, thinking I can stop whenever I want, thinking I'm not addicted or anything… and then…
Then I see Her on cam. And everything changes.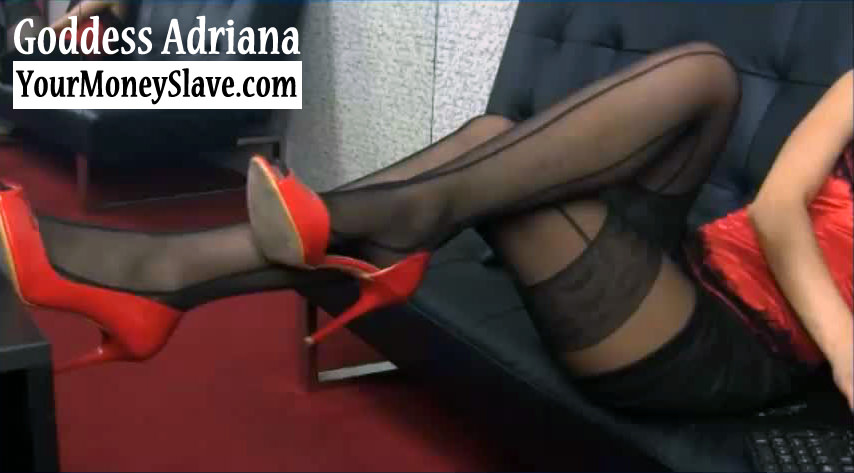 It's hard to explain the reasons behind this addiction, but every time I see Goddess Adriana live on cam… my addiction grows and all I want is to be there, to worship Her, to serve Her, to make Her happy.
I know this sounds very like a cliche for a slave, as more or less every single slave says the same things about his Mistress…but I am just describing what's happening to me…because it keeps surprising me each time.
I always believe I can control myself, I always believe there are things I will never do for a Mistress. And yet, each time. Goddess Adriana makes me do things I've never done before for anyone else. Things like draining my credit card completely (to the point my bank blocked it for a few days), or buying pantyhose for a Mistress… things like feeling such a STRONG desire to be in Her presence, to meet Her, to be really at Her feet.
Or things like…the ATM dream. A dream I keep having recently where I picture me and Her in front of an ATM, with Her teasing me badly with her feet (and not only) while whispering in my ear "more…take out more".
Why do I have this addiction for Her? There are many reasons…but I don't think I have to stay here and explain them…to me, She's just the perfect Goddess, that's all. And the addiction I'm feeling for Her is something I have never felt before for anyone else…so…She is special. Absolutely special.