FeetGoddesss proved me wrong. Once again.
FeetGoddesss proved me wrong. Once again.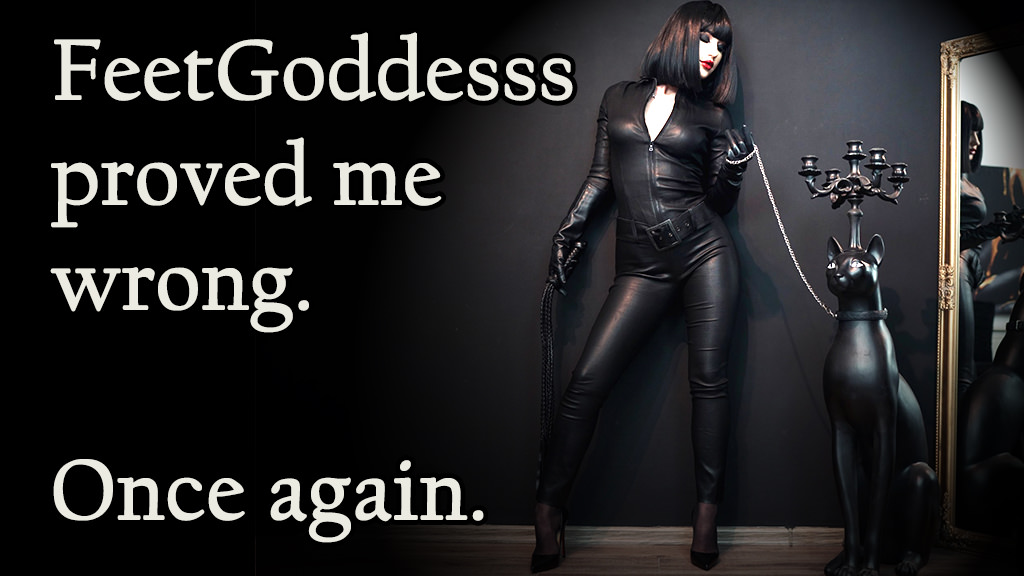 It's not the first time (and I'm sure it won't be the last one) that FeetGoddesss shows me how wrong I am about what I think excites me and what it doesn't. Why? Because she's just too powerful, that's why.
It has only been a few days since I wrote about my (bad) opinion about group draining sessions: I don't like them, they don't excite me, I would never want to be in one.
Or so I thought
I have a fetish for legs and feet in pantyhose ever since I was a teenager, and a Woman wearing trousers just doesn't interest me. She's not as sexy as in a miniskirt, her legs in nylon are hidden, come on it's just not for me.
Or so I thought
If there is one way FeetGoddesss has to show me Her immense power, is proving me wrong on this kind of thing. A few nights ago, after finishing my work, I logged online just to have a look around. Started browsing Twitter, cam sites… you know, the usual stuff we all do.
At some point, I went into FeetGoddess room.
She had a leather catsuit on, Louboutin high heels, and nylons (later I discovered being pantyhose). She looked incredible. Her perfect body was like a perfect match with that outfit, her legs looked even longer than usual, her incredible ass was breathtaking. I couldn't leave. I had to stay and watch a bit.
Thing is, she was super busy as usual. I could hear her asking tributes to a few different guys, giving them orders, calling them one by one: it was a group draining session. You know, that kind of session I don't like. I thought of just enjoying the show, without taking part in it…but she was of a different opinion.
At one point, between one order to a guy and another, she said, looking deeply into the cam:
"Spoil me Massi, it's your turn now. You know you want to"

To be honest, I didn't KNOW I wanted to… till then. Those words instantly turned me into an obedient puppy. I sent the first tribute and started acting like I had no brain. Well, it wasn't really acting… she did actually take my brain away, piece by piece. She was moving in the sensual way only Her can do, her voice was hypnotic, slowly giving orders to others, then to me, then to them…one by one…sometimes I stared while she was clearly giving orders to others and ignoring me but…she did it in such a perfect way that I never felt left out. It was a constant switching between one and another, with perfect timing, always giving everyone the right attention. It was perfect. I had a magnificent time.
The next morning I woke up happy but also a bit confused. Do I even know what I like? Does it even matter?